Panels
Professional quality panels on a variety of popular topics. We have presented panels at these conventions:
Anime Expo
Anime Boston
Otakon
Otakuthon
San Japan
AnimeIowa
Zenkaikon
Arisia
Nan Desu Kan
Kraken Con
Animaritime
Providence Anime Conference
…and more!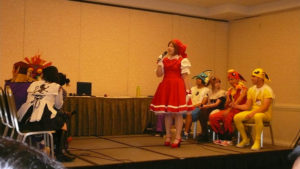 Game Shows
From serious trivia to just plain fun, we can host it. We have hosted game shows at these conventions:

Anime Boston
PortConMaine
Hydra Comic Con
Bakuretsu Con
BAMCon
…and more!
A full list of performances (and guest performers) for our Anime Unscripted improv event can be found below.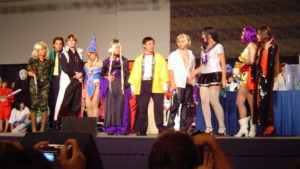 Cosplay Judging
Award-winning cosplayers to judge your masquerade. We have been masquerade/cosplay judges at these conventions:
Anime Expo
Anime Boston
ConnectiCon
PortConMaine
Mikkakan
BAMCon
…and more!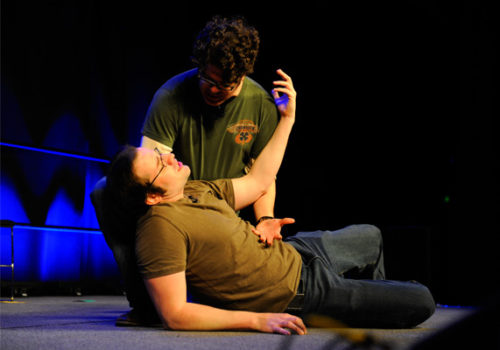 Anime Unscripted Performances
Our flagship event, Anime Unscripted, has been performed more than fifty times in a dozen states and provinces, five time zones, and two countries over a span of more than two decades. We have had hundreds of different performers including nearly 100 convention guests of honor. Some notable performers have been Greg Ayres, Steve Blum, Mary Elizabeth McGlynn, Matthew Mercer, Tiffany Grant, Monica Rial, J. Michael Tatum, Richard Epcar, Ellyn Stern, Cristina Vee, Brian Brushwood, the late Kirby Morrow, and our improv mentor, Christopher Ayres.
Anime Unscripted has been performed at the following conventions:
Mikkakan 2001

with Tristan MacAvery, Neil Nadelman, and John Barrett

Anime Boston 2003

with Ted Cole, Tiffany Grant, Kirby Morrow, and Brad Swale

Bakuretsu Con 2003
Anime Boston 2004

with Michael Coleman, Crispin Freeman, Lauren Goodnight, Lex Lang, and Monica Rial

Bakuretsu Con 2004

with Tiffany Grant and Marc Matney

Nan Desu Kan 2004

with Michael Coleman and Michael Dobson

Anime Boston 2005

with Greg Ayres, Cynthia Martinez, Scott McNeil, and Chris Patton

PortConMaine 2005
Bakuretsu Con 2005
TsubasaCon 2005
Animaritime 2006
Anime Boston 2006

with Steve Blum, Richard Epcar, Mary Elizabeth McGlynn, and Vic Mignogna

PortConMaine 2006
Another Anime Convention 2006
Bakuretsu Con 2006
Anime Boston 2007

with Greg Ayres, Luci Christian, and Mike McFarland

PortConMaine 2007

with Mike McFarland, Jekka Cormier, and Rob "Sketch" Scholz

ConnectiCon 2007

with Kevin McKeever, Vic Mignogna, and Carrie Savage

Another Anime Convention 2007
Bakuretsu Con 2007

with Tiffany Grant and Steve Bennett

Anime Boston 2008

with Chris Ayres, Greg Ayres, Aaron Dismuke, and Monica Rial

PortConMaine 2008

with Michele Knotz, Bill Rogers, Jekka Cormier, and Rob "Sketch" Scholz

ConnectiCon 2008

with Michele Knotz and Rob "Sketch" Scholz

San Japan 1.5 (2008)

with Hannah Alcorn, Chris Ayres, Tiffany Grant, Josh Grelle, Samantha Inoue-Harte, Vic Mignogna, and Carli Mosier

Providence Anime Conference 2008

with Chris Ayres, Kevin McKeever, Jekka Cormier, and Rob "Sketch" Scholz

Bakuretsu Con 2008 (two performances)
Anime Boston 2009

with Chris Ayres, Greg Ayres, Troy Baker, and Jekka Cormier

PortConMaine 2009

with Tiffany Grant, Samantha Inoue-Harte, Jekka Cormier, and Rob "Sketch" Scholz

ConnectiCon 2009

with Cristina Vee, Shiva, Rob "Sketch" Scholz, and Steven D.

Bakuretsu Con 2009 (two performances)
Anime Boston 2010

with Chris Ayres, Greg Ayres, Josh Grelle, Carli Mosier, and J. Michael Tatum

PortConMaine 2010
ConnectiCon 2010

with Michele Knotz, Bill Rogers, Shiva, and Rob "Sketch" Scholz

Anime Boston 2011

with Chris Ayres, J. Michael Tatum, Brina Palencia, and Sean Schemmel

PortConMaine 2011

with Chris Ayres, J. Michael Tatum, Jekka Cormier, Rob "Sketch" Scholz, and Luke Morgan

ConnectiCon 2011

with Jon St. John, Cristina Vee, Shiva, and Rob "Sketch" Scholz

Anime Boston 2012

with Chris Ayres, Greg Ayres, Carli Mosier, and Keith Silverstein

BAMCon 2012

with Elizabeth O'Malley, Greg Wicker, and Gale

PortConMaine 2012

with Brian Brushwood, Joel McDonald, Jekka Cormier, Elizabeth O'Malley, and Rob "Sketch" Scholz

ConnectiCon 2012

with Jim Cummings, Jon St. John, Danielle McRae, and Amanda Winn-Lee

AnimeIowa 2012

with Chris Ayres, Greg Ayres, Terri Doty, Josh Grelle, and Brittney Karbowski

Dragon*Con 2012

"Powerpoint Roulette" presented during NSFW live show with Veronica Belmont, Brian Brushwood, George Hrab, Tom Merritt, and Justin Robert Young

Bakuretsu Con 2012

with Terri Doty and Scott A. Melzer

Anime Boston 2013

with Chris Ayres, Todd Cochran, Jekka Cormier, and Shamus Mahan

PortConMaine 2013

with Cherami Leigh, Keith R.A. DeCandido, Gale, and Elizabeth O'Malley

TWiT New Year's Eve Celebration 2014

with Justin Robert Young, Ashley Paramore, Wil Harris, and Wes Wilson

Anime Boston 2014

with John Stocker, Cristina Vee, Patrick Seitz, and Matthew Mercer

PortConMaine 2014

with Elizabeth O'Malley, Gale, Shiva, and Rob "Sketch" Scholz

Anime Boston 2015

with Mona Marshall, Ellyn Stern, Todd Cochran, Jekka Cormier, and a special appearance by Greg Ayres

PortConMaine 2015

with Jekka Cormier, Elizabeth O'Malley, Shiva, and Rob "Sketch" Scholz

San Japan 2015

with Brett Weaver, Kieran Strange, Lisa Ortiz, and Greg Wicker

Anime Boston 2016

with Greg Ayres, Carrie Keranen, Erica Lindbeck, and Monica Rial

PortConMaine 2016
Anime Boston 2017

with Lex Lang, Sandy Fox, Brina Palencia, and Lisa Ortiz

PortConMaine 2017
Anime Boston 2018

with Monica Rial, Greg Ayres, Kaiji Tang, and Caitlynn French

Anime Boston 2019

with Kara Edwards, Billy Kametz, Richard Epcar, and Ellyn Stern

Anime Boston 2022

with Greg Ayres, Brittany Lauda, Matt Shipman, and Katy Hunt
Anime Unscripted is planned to be performed at these upcoming conventions: