Anime Unscripted:
The Premier Improv Event for Fan Cons
Anime Unscripted™ is the premier improv event for anime conventions in the United States. The event has been held over 50 times at more than a dozen conventions in 11 states, two provinces, five time zones, and two countries.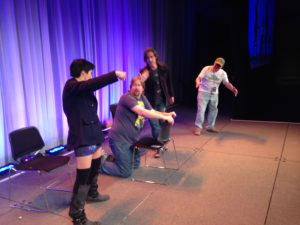 If you've seen Whose Line is it Anyway? on Comedy Central, ABC, or some other network, then just imagine that with an anime twist. Anime Unscripted is an improvisational comedy show in which four performers (sometimes less, sometimes more) must create scenes or characters based on instructions from the host or suggestions from the audience.
Voice actor Greg Ayres has called the event "the second best improv event" he has ever been a part of. (He admits the best was one run by actor/comedian Mike McFarland.)
Anime Unscripted is planned and run by PatrickD, founder of The Chibi Project, webmaster of AnimeCons.com, and co-founder of Anime Boston and Providence Anime Conference. He is assisted on occasion by members of The Chibi Project team. Anime Unscripted performers are either convention guests, convention attendees, or some combination of the two groups.
"Whose Line is it Anime?" was a name that PatrickD came up with when he volunteered to run an improv game show at Mikkakan in 2001. He was unaware that other anime events were also using the name at the time. Later on, as anime conventions popped up all over, more of them began to have improvisation events and named them "Whose Anime is it Anyway?", "Whose Line: Anime Edition", "Who's Line is it Anyway: Anime", and other names derived from the original Whose Line is it Anyway? TV show name. Eventually, the "Whose Line is it Anime?" name became the most common name.
From time to time, some conventions have asked PatrickD to run the event at their con. Occasionally, he would show up at another convention and see Whose Line on the schedule and wonder, "Am I supposed to be running that? Nobody told me." On one occasion, not even the convention staff knew if he was supposed to run it or not!
In order to prevent further confusion between improv events run by PatrickD and those run by others, he decided to rename the event in 2007. With the new "Anime Unscripted" name, people (including PatrickD) will now know that it is an improv event run by PatrickD and The Chibi Project when they see it on the schedule. This will ensuring people that they will be presented with the same high-quality show that they have come to expect.
As part of the renaming, the event has moved away from the Whose Line is it Anyway? format and features a more original format. The other difference is that the "Anime Unscripted" name is trademarked and cannot be used for any convention event not run by PatrickD or The Chibi Project.